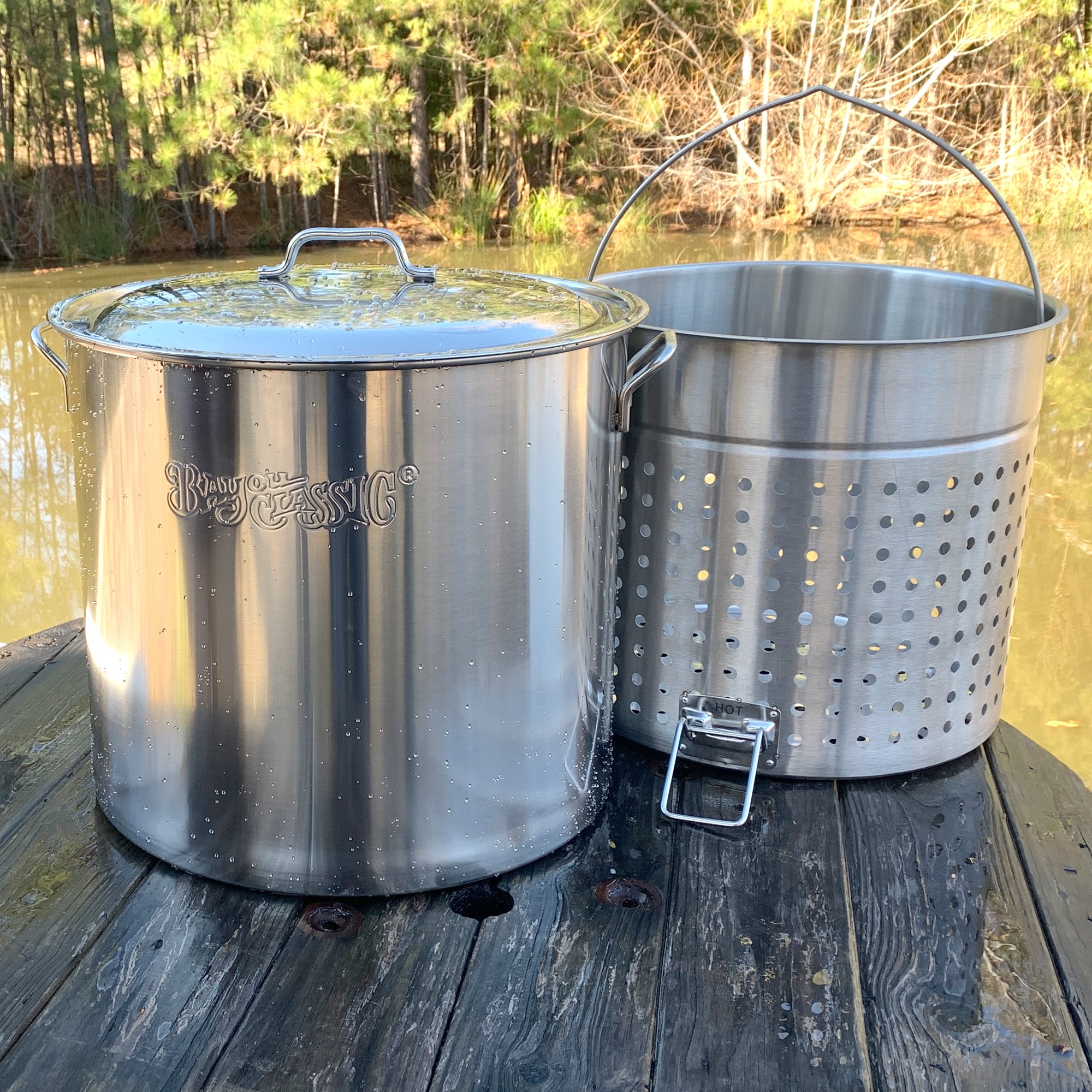 Stainless Bayou® Boilers with Baskets
Free Shipping for 82-qt size only!
All sizes are in-stock and available to order.  Please call 800-736-8028 for a Freight Quote.
Similar to a pirogue gliding through still water filled with sacks of crawfish, Stainless Bayou® Boilers bring the heart and soul of Cajun country to your backyard.

Bayou Boilers are the traditional stockpots for backyard crawfish boils. Full-Size Basket maximizes the stockpot capacity for large batch cooking. Locking Helper Handle enables steady lifting and draining of crawfish, crabs, shrimp, lobster, low country boil, and peanuts. 
Features and Benefits:

 
Heavy Welded Handles
Basket with Reinforced Helper Handle
Helper Handle Simplifies Lifting and Emptying Large Basket
Locking Feature on Helper Handle Enables Basket to Set on Top of Stockpot for Draining
Domed, Vented Lid Prevents Vapor Lock When Boiling
Available Sizes:
1182, 82-qt Stockpot,

$179.00 + Free Shipping

, ID = 18.875-in Diameter x 17.125-in Height
1102, 102-qt Stockpot,

$224.40 + Call for Freight Quote

, ID = 18.875-in Diameter x 20.875-in Height
1122, 122-qt Stockpot,

$268.40 + Call for Freight Quote

, ID = 21.375-in Diameter x 19-in Height
1142, 142-qt Stockpot,

$312.40 + Call for Freight Quote

, ID = 21.375-in Diameter x 23.5-in Height
1162, 162-qt Stockpot,

$356.40 + Call for Freight Quote

, ID = 23.5-in Diameter x 22.25-in Height
Stainless Steel Cookware Product Manual click here