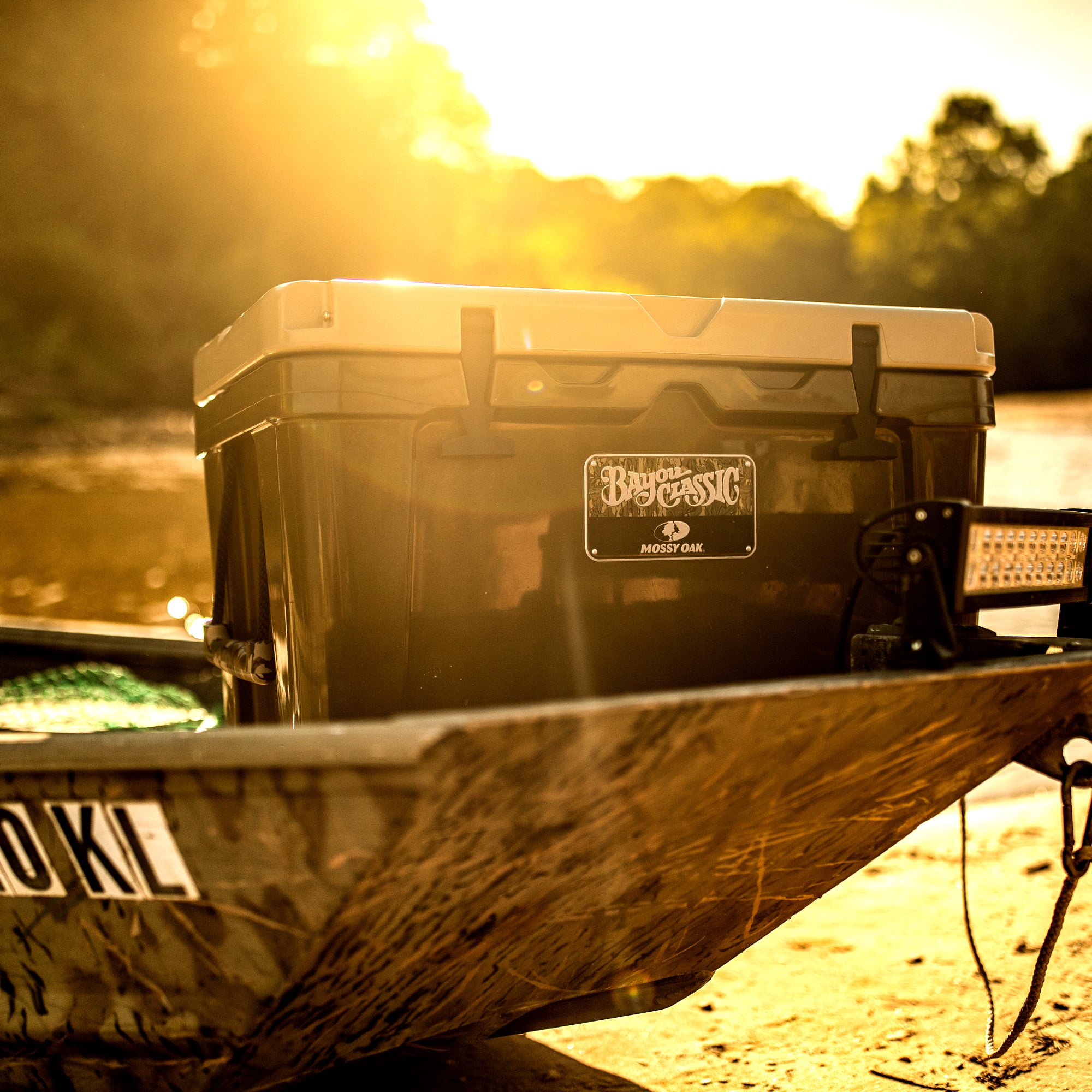 Mossy Oak® Collaboration Coolers
Bayou Classic® and Mossy Oak® share a connection in our stories and our passions. This is a true collaboration of Rugged Adventure and Classic Outdoor Lifestyle. 

For our collaboration, Mossy Oak® has graciously offered their original Greenleaf pattern. For best cooling performance, pre-load with some ice a few hours prior to your excursion. When used as recommended, ice can last for days in a Bayou Classic Cooler. 
Bayou Classic / Mossy Oak Collaboration Coolers:
Durable Roto-Molded Construction 

to withstand rough handling through rugged environments; alligator resistant

Dense Insulation

, pressure injected up to 2 or 3 inches thick, maintains frigid Bayou® Brew

Gator Bite™ Lid Gasket

 

and 

Pull-Tight Rubber Latches 

maximize ice retention, keeping contents cold for days

For hunting, fishing, camping, tailgating, off-road, on the beach, and backyard adventures!
Available sizes: 

BC25G, 25-qt capacity 

of usable space

BC45G, 45-qt capacity 

of usable space

BC65G, 65-qt capacity 

of usable space
Additional Features:
Attractive, sleek design topped with a textured lid
UV-Resistant to maintain color and preserve exterior surface
Full-Length Lid Hinge is internally integrated for precise function
Lid Gasket made from freezer style silicon
Padlock Hole centered for convenience
Ergonomic Grip Side Rope Handles capable of lifting up to 200-lbs
No-Slip Gator Grip Feet and Tie-Down Slots for secure transit
Interior Drain Channel and Drain Plug with silicon gasket for no-leak performance
Dry Ice compatible for long haul cold retention
Stainless Accessory Basket (available on 45 and 65-quart only)
Cutting Board Divider (available on 45 and 65-quart only)